Welcome to the First Christian Church of Alexandria, Indiana (Disciples of Christ)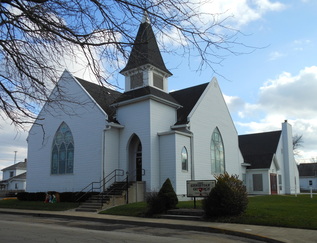 First Christian Church(Disciples of Christ) is made up of people of all walks of life couples, singles, young and old, working and retired. Together we embrace a vision of God's Kingdom offered in the life and teachings of Jesus Christ. Established in 1831, we are the oldest continuous congregation in Madison County.



Contact Information: 215 W. Berry Street, Alexandria Indiana 46001
765-724-3390 Church, 765-724-0124 Parsonage
Email: Alexandria1stChristian@outlook.com
Web Page: firstchristianchurchalexandria.org
Facebook : Alexandria First Christian Church
Come join us as we look forward to a future in faithfulness, lifting our hearts and voices in song and prayer.
Service Times:
Sunday School: 9:30am
Worship Service: 10:30am
---
We have a seat just for you. Come and join us for Sunday Worship.
Here is help finding us....

Church Information
Updated: 2/3/2017 6:46:00 am

Sunday School at 9:30am and Worship Service at 10:30am

Souper Bowl of Caring – On Sunday, February 4th, we will be having a special city-wide collection of canned soup for Pete's Pantry. You may bring your soup to worship. Also invite your friends to donate too. Pastor Julia and friends will be hanging out at the church from Noon – 2pm to collect soup from other organizations and churches. You may also make financial donations to Pete's Pantry that day. A "Soup Pot" will be available to collect your monetary gifts.

Valentine Luncheon - February 11 after Worship Service.
​
Prayer Meeting - At 5:00pm, prior to each Church Board Meeting, there will be a time of prayer in the Pastor's Study. This will be a time of sharing in the concerns and celebrations of our congregation and community, as well as praying for the mission work that happens through the Global Missions of the Disciples of Christ. This gathering is open to all. The Elders will not be meeting before Board Meeting.