Welcome to the First Christian Church of Alexandria, Indiana (Disciples of Christ)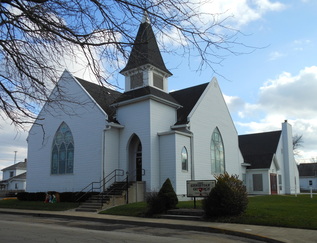 First Christian Church(Disciples of Christ) is made up of people of all walks of life couples, singles, young and old, working and retired. Together we embrace a vision of God's Kingdom offered in the life and teachings of Jesus Christ. Established in 1831, we are the oldest continuous congregation in Madison County.



Contact Information: 215 W. Berry Street, Alexandria Indiana 46001
765-724-3390 Church, 765-724-0124 Parsonage
Email: Alexandria1stChristian@outlook.com
Web Page: firstchristianchurchalexandria.org
Facebook : Alexandria First Christian Church
Come join us as we look forward to a future in faithfulness, lifting our hearts and voices in song and prayer.
Service Times:
Sunday School: 9:30am
Worship Service: 10:30am
---
We have a seat just for you. Come and join us for Sunday Worship.
Here is help finding us....

Church Information
Updated: 11/26/2017 8:00 pm

Sunday School at 9:30am and Worship Service at 10:30am

Pete's Pantry, formerly ERF Food bank, is gearing up for the holidays and always in need of food donations. Along with our usual giving, we are trying to stock the pantry with some standard spices. A cookbook is being created to be handed out to those who come to the food bank. Spices will help to better the recipes. Some to consider: salt, pepper, garlic powder, onion powder, paprika, Italian seasoning, taco seasoning packets, cinnamon, basil, poultry seasoning. There will be baskets in the front of the sanctuary to receive your spices. All other donations can be left by the elevator. Thank you in advance for your generous giving!

First Christian Post Office. Again this year, we will offer a chance for any in the church to share Christmas cards with our regular attendees and save on postage. You may place your Christmas cards in the boxes in Robinson Hall. Please have your cards in alphabetical order to help those who sort the cards. Cards must be in by Monday, December 11. They will be sorted Tuesday, December 12 and available for pick-up Sunday, Dec. 18th.

Socks and Undies Tree - To help with the needs of our elementary school, instead of collecting hats and gloves this year, we will be filling the tree in Robinson Hall with socks and undies. Any children's sizes or small adult sizes please.

Prayer Meeting - At 5:00pm, prior to each Church Board Meeting, there will be a time of prayer in the Pastor's Study. This will be a time of sharing in the concerns and celebrations of our congregation and community, as well as praying for the mission work that happens through the Global Missions of the Disciples of Christ. This gathering is open to all. The Elders will not be meeting before Board Meeting.