Welcome to the First Christian Church of Alexandria, Indiana (Disciples of Christ)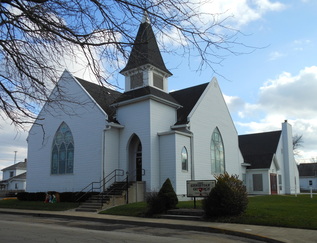 First Christian Church(Disciples of Christ) is made up of people of all walks of life couples, singles, young and old, working and retired. Together we embrace a vision of God's Kingdom offered in the life and teachings of Jesus Christ. Established in 1831, we are the oldest continuous congregation in Madison County.



Contact Information: 215 W. Berry Street, Alexandria Indiana 46001
765-724-3390 Church, 765-724-0124 Parsonage
Email: Alexandria1stChristian@outlook.com
Web Page: firstchristianchurchalexandria.org
Facebook : Alexandria First Christian Church
Come join us as we look forward to a future in faithfulness, lifting our hearts and voices in song and prayer.
Service Times:
Sunday School: 9:30am
Worship Service: 10:30am
---
We have a seat just for you. Come and join us for Sunday Worship.
Here is help finding us....

Church Information
Updated: 9/4/2017 5:04 pm

Sunday School at 9:30am and Worship Service at 10:30am
​
Our Personal Giving – With summer vacations and family activities, our Sunday morning attendance has been down. It's also easy to let the financial support of our ministry lag behind. As we begin an active Fall and Winter, please consider catching up on your personal giving to the church. May we be committed to spreading the Good News of Christ through the giving of our financial gifts as well as our time and talent.

The Commons Theatre presents "Pass My Imperfections Lightly By" starring our very own Pastor Julia, who will be portraying Mary Todd Lincoln in this one-woman show. Performances are Friday, October 20 at 7:30pm, Saturday, October 21 at 7:30pm and Sunday, October 22 at 3:30pm. Tickets are $8 – adults and $6 – students. Tickets can be reserved by calling 765-639-3282.