Welcome to the First Christian Church of Alexandria, Indiana (Disciples of Christ)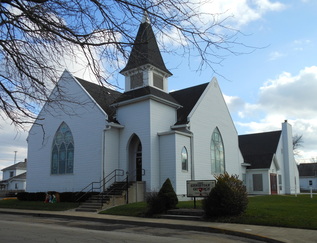 First Christian Church(Disciples of Christ) is made up of people of all walks of life couples, singles, young and old, working and retired. Together we embrace a vision of God's Kingdom offered in the life and teachings of Jesus Christ. Established in 1831, we are the oldest continuous congregation in Madison County.



Contact Information: 215 W. Berry Street, Alexandria Indiana 46001
765-724-3390 Church, 765-724-0124 Parsonage
Email: Alexandria1stChristian@outlook.com
Web Page: firstchristianchurchalexandria.org
Facebook : Alexandria First Christian Church
Come join us as we look forward to a future in faithfulness, lifting our hearts and voices in song and prayer.
Service Times:
Sunday School: 9:30am
Worship Service: 10:30am
---
We have a seat just for you. Come and join us for Sunday Worship.
Here is help finding us....
Church Information
Updated: 8/22/2017 12:07 pm

Sunday School at 9:30am and Worship Service at 10:30am

​ERF Food Bank – Within the next few months, the foodbank will be unveiling its new name. Pastor Julia is working with other community leaders to help combat the hunger situation in our community. This committee is not only working toward ending hunger, but also helping those in need eat healthier. There are many people who do not know about the ERF food bank. The name change will help people know that ERF is a food bank. One of Pastor Julia's assignments is to come up with healthy recipes that use the items that can be picked up at the food bank. There are copies of the government commodities shopping list as well as the items usually available at the pantry on the communion table in the chapel. One thing that isn't always available at the pantry is common spices (cinnamon, garlic powder, salt, pepper, chili powder, Italian seasoning). These items can be purchased at the discount stores for $1 or less. Let's see if we can provide some of these spices to help the food bank. Other items always needed are peanut butter, canned vegetables, canned soups (especially creamed soups for cooking), rice, toilet paper, jello. If you have a recipe that uses the items from the pantry list that you would like to share, please get it to Pastor Julia. We are hoping to put together a booklet of recipes by the end of the summer.